Homepage
Main content starts here, tab to start navigating
Slide 1 of 29
Slide 2 of 29
Slide 3 of 29
Slide 4 of 29
Slide 5 of 29
Slide 6 of 29
Slide 7 of 29
Slide 8 of 29
Slide 9 of 29
Slide 10 of 29
Slide 11 of 29
Slide 12 of 29
Slide 13 of 29
Slide 14 of 29
Slide 15 of 29
Slide 16 of 29
Slide 17 of 29
Slide 18 of 29
Slide 19 of 29
Slide 20 of 29
Slide 21 of 29
Slide 22 of 29
Slide 23 of 29
Slide 24 of 29
Slide 25 of 29
Slide 26 of 29
Slide 27 of 29
Slide 28 of 29
Slide 29 of 29
We're Back!
Grand Re-Opening Nov. 29

Roadhouse Roots
Driving along the rural roads of Salem Township you stumble upon a historic log cabin restaurant that opened its doors on January 31, 1947, as The Rustic Tavern. The roadhouse was built on a farm and garnered much excitement as a dance hall with live music four nights a week, even once hosting a performance by the legendary Johnny Cash & The Tennessee Two. As the years went on, the cabin gained a hardnosed reputation with disorderly clientele and regular calls were made to the police. The bar sold and passed through two short lived ownerships in 70's first as Heffner's Hideaway a biker bar with a notorious after-hours operation of illegal gambling, bookmaking and wild clientele. And then as The Stock Yard a fine dining steak house with an open pit grill. The cabin lay dormant for four years until Karl Poulos discovered it in 1981 and fell in love with its unique log timber design. He purchased it against his wife Sophia's wishes and opened Karl's Family Restaurant in November of 1982 serving homemade comfort food including breakfast on the weekends. With hard-working Karl creating delicious meals in the kitchen and charming Sophia greeting everyone at the front door, their warm hospitality soon became the recipe for success.
Today, Karl's legacy lives on celebrating our 42nd year as a family owned and operated restaurant. Specializing in rustic American comfort food, our Chef's take great pride in creating seasonal menus using fresh locally sourced dishes with generous sized portions. Complementing the menu is our bar which offers boutique wines that pair with our food, 20 delicious rotating craft beers on draft and cocktails made with great care to suit the season. Our staff, the heartbeat of our restaurant, will always greet you with a friendly smile and take the extra steps to WOW you. For 76 years this storied log cabin roadhouse has brought joy to its guests offering heart-felt service, classic home cooking, big drinks & supper club -style lively entertainment. We'd love to share the experience with you.
Grand Re-Opening Nov. 29
We are thrilled to announce the grand reopening of our restaurant with two new dining rooms to choose from! "The Lodge" features a luxe modern log cabin vibe with light airy, white-washed walls and a comfy lounge area. "The Cabin," our historic dining room where we've served guests for over 75 years, boasts warm elegance and historic charm. Most importantly, you'll receive the same great food and service no matter where you're seated. We can't wait to serve you again.
Outdoor Dining
2X Detroit Free Press Winner!
Thank you for making Karl's Cabin the Best Restaurant for Outdoor Dining in Metro Detroit two years in a row in the annual Community Choice Awards readers poll. Our outdoor seating opens May 17 and we offer a pet friendly patio. We accept reservations on outisde however they cannot be guaranteed in the case of poor weather.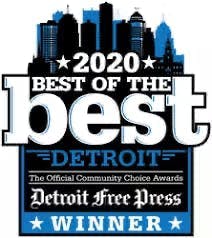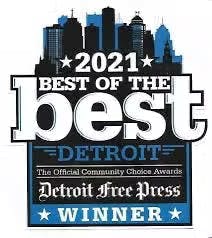 Private Dining
Our Private Dining Room in Plymouth, MI is perfect for showers, small weddings, birthday parties, work events and family gatherings. Our spacious banquet room seats up to 120 guests. Call one of our friendly coordinators and let us help you make your party a huge success.
Learn More
Touch-less Curbside To-Go
Our entire menu including beer, wine & cocktails is available for touch-less curbside to-go. Order online and you can schedule carryout up to 3 weeks in advance. Create a profile to save information including past orders and payment information for easy check out. Park right in front of our restaurant in one of our 7 curbside spots and one of our friendly hosts will bring your food out to your car. To place an order click below or give us a call at 734-455-8450. Currently we do not deliver.
ORDER TAKEOUT
---
WE APOLOGIZE AS WE ARE TAKING A BREAK FROM ENTERTAINMENT INCLUDING LIVE BANDS & DUELING PIANOS UNTIL FURTHER NOTICE. WE HOPE TO BRING LIVE MUSIC BACK IN THE NEAR FUTURE. WE APPRECIATE YOUR PATIENCE AND KINDLY ASK YOU TO CHECK BACK SOON.