Homepage
Main content starts here, tab to start navigating
Slide 1 of 28
Slide 2 of 28
Slide 3 of 28
Slide 4 of 28
Slide 5 of 28
Slide 6 of 28
Slide 7 of 28
Slide 8 of 28
Slide 9 of 28
Slide 10 of 28
Slide 11 of 28
Slide 12 of 28
Slide 13 of 28
Slide 14 of 28
Slide 15 of 28
Slide 16 of 28
Slide 17 of 28
Slide 18 of 28
Slide 19 of 28
Slide 20 of 28
Slide 21 of 28
Slide 22 of 28
Slide 23 of 28
Slide 24 of 28
Slide 25 of 28
Slide 26 of 28
Slide 27 of 28
Slide 28 of 28
Roadhouse Roots

Driving along the rural roads of Salem Township you stumble upon a historic log cabin restaurant that originally opened on January 31, 1947. The roadhouse garnered much excitement as a dance hall with live music 4 nights a week even once hosting a performance by the legendary Johnny Cash & The Tennessee Two. As the years went on, "The Rustic Tavern" gained a hard nosed reputation. It passed through multiple owners as "Heffner's Hideaway" & "The Stock Yard" and eventually lay dormant for 5 years until Karl Poulos discovered it in 1980 and fell in love with the log cabin.
Today, Karl's Cabin is a full service restaurant specializing in rustic American comfort food. Our Chef's take great pride in creating seasonal menus using fresh locally sourced dishes with generous sized portions. Complimenting the menu is our bar which offers boutique wines that pair with our food, 20 delicious rotating craft beers on draft and cocktails made with great care to suit the season. Our staff, the heartbeat of our restaurant, will always greet you with a friendly smile and take the extra steps to WOW you. For 75 years this storied "roadhouse" has brought joy to its guests offering heart-felt service, classic home cooking, big drinks & supper club -style lively entertainment. We look forward to serving you real soon!
Outdoor Dining
Detroit Free Press Winner!
Thank You for making Karl's Cabin the Best Restaurant for Outdoor Dining in Metro Detroit in the annual Best of the Best Community Choice Awards readers poll.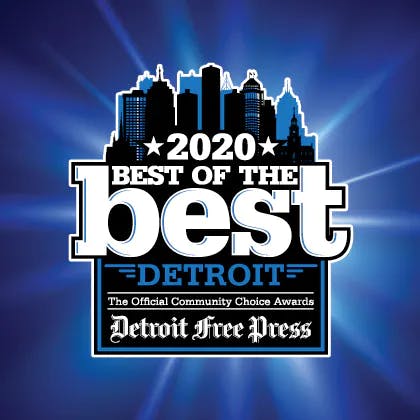 Private Dining
Celebrate your next occasion in our banquet room. Whether it's a small gathering or a larger event, we will make the occasion a success. We specialize in providing an array of services including cocktail parties, buffets & formal dining. Karl's Cabin is the perfect venue for corporate events, meetings, showers, surprise birthdays and weddings.
Learn More
Dinner & Dueling Pianos
Supper Club-Style Entertainment
(DUE TO COVID-19 WE ARE TAKING SHORT BREAK FROM ENTERTAINMENT UNTIL FURTHER NOTICE)

Make reservations for any size between 7:30-8:30pm and enjoy our dinner menu followed by a live Dueling Pianos performance at 9pm. You never leave your seats! Great for Birthday Parties, Family Gatherings, Bachelor & Bachelorette Events, Corporate Gatherings or a Date Night our on the town.

$12 cover charge for VIP Main Dining Room Seats. Ticket Deposit Required for Parties of 12 or More Guests. Call 734-455-8450. No Cover Charge in our bar area on a first come first serve basis.
Learn More
---
For More Details Click On Link Below
Make Reservations for Any Size
Cover Charge May Apply. Advance Purchase Tickets are Non-Refundable*

UNFORTUNATELY DUE TO COVID-19 WE ARE TAKING A BREAK FROM EVENTS & ENTERTAINMENT.
PLEASE CHECK BACK IN THE NEW YEAR 2022.
Have Feedback?
Join Our Email Club