Main content starts here, tab to start navigating
Slide 1 of 6
Slide 2 of 6
Slide 3 of 6
Slide 4 of 6
Slide 5 of 6
Slide 6 of 6
Karl's Cabin Scholarship
Our scholarship was created to honor Karl Poulos, the founder of Karl's Cabin. A Greek immigrant who came to the U.S. in 1955, Karl lived the American dream. Mr. Poulos worked in kitchens for over 50 years bringing joy to all his guests. A product of the Greatest Generation, he was a kind, humble and a hardworking family man.
Karl Poulos - Founder of Karl's Cabin
The Karl's Scholarship recognizes the need to promote personal responsibility, humility, faithful commitment, work ethic & general kindness in the culinary industry. Since inception we have helped 24 students pay for culinary school by donating over $30,000 in scholarships.
We send a special big thank you to our major sponsors - Tito's Handmade Vodka & Gordon Food Service. We also thank Gretchen Ward of The Educational Excellence Foundation and Dianna Woodward from PCEP for all their help with this amazing award.
2021 Winners
We are so happy to announce the winners of our 2021 Karl's Culinary Scholarship! Congratulations to Alex Printy, Jackson Curtis, Kennedi Thompson and Megan Pleimann. They are all first year enrollees in the Prestigious Culinary Arts Program at Schoolcraft College. It is our pleasure to award each student with $1500 to help with their educational plans. Please help us wish them all the best!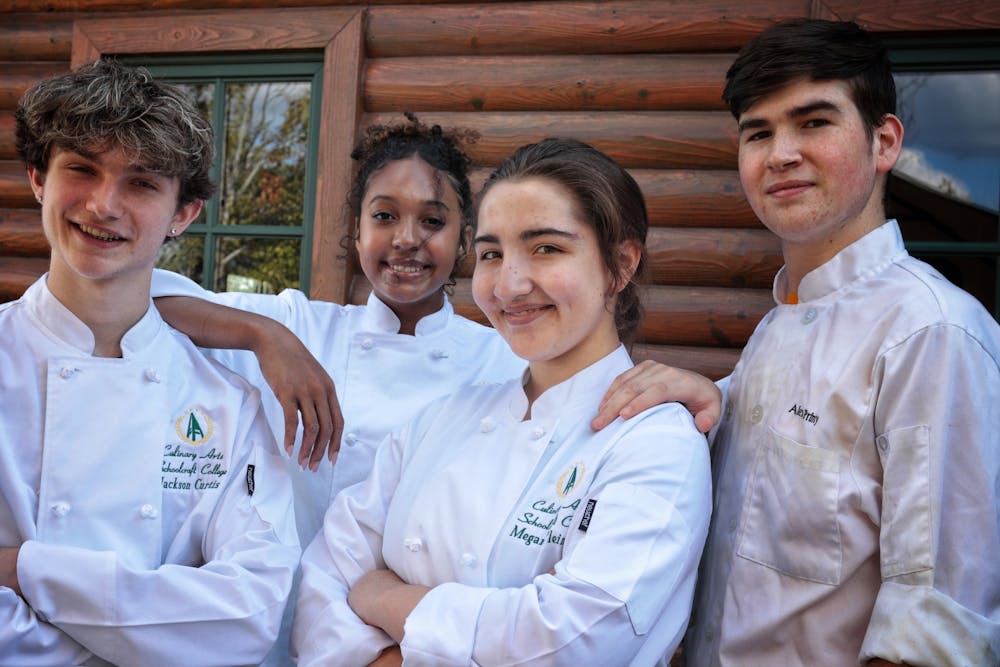 Applying for Our Scholarship? Please See Information Below.
Purpose
To provide financial assistance to a high school graduate, graduating senior or student currently enrolled in or entering culinary school.
Amount to be awarded
$1500 (non-renewable) will be awarded to six students. Award will be administered in two disbursements: $750 in the fall semester with the additional $750 awarded in the winter semester.
Criteria
High school graduate, a graduating senior or a student currently enrolled in a culinary arts program
Minimum cumulative GPA 2.0
Student will be continuing their education at a culinary school in a culinary arts program
Application Requirements
Completed application form (see attached)
Copy of high school transcripts or culinary arts program transcripts if currently taking classes
Two letters of recommendation
Proof of acceptance to a culinary program or proof of enrollment in a program
Short Essay (500 words maximum) on why you want to pursue a profession in the culinary arts field
Submit an original recipe
Interview with Karl's management team
Help prepare & plate dishes at our annual culinary dinner (required)
Application deadline: June 30, 2022
We Would Like to Acknowledge & Thank Our Scholarship Sponsors Below.